July 2015 first braiding experience
Greetings Daizies,
This year one of my natural hair goals was to do more protective styles all by myself. In the past I have done crochet braids often which always turned out great. I tried doing my own singles almost 4 years ago, in the picture above and while I rocked them for a bit, I thought I would never do my own braids again. Getting the right grip, finding the time, and having the outcome of neat braids seemed like something that just wasn't in my ministry. So for years I had to find someone to do my braids every time I wanted them done.
This all changed after seeing how amazing my hair turned out with marley twists last December. I surprised myself because, having attempted them before a few years ago, I struggled with twisting tight enough so that they wouldn't unravel. But I tried it again and my confidence in doing all the styles I thought I couldn't do had peaked. So last weekend, I set out two nights to just enjoy my new tv while braiding my hair.
Braiding Hair
The braiding hair has a lot to do with the braiding experience PERIODT. I really think Xpression braiding hair is the best. I compared it to a pack of hair I had left over and it was way better in terms of texture and look. So when doing your own hair, getting quality hair will help so much so that you don't find yourself getting frustrated with tangles and shedding, which ultimately slows down the whole process.
I definitely overestimated the amount of hair that I would need. I bought 8 packs but only used 3 1/2. Cutting each pack in half allowed for box braids that were waist length.
Learnings
Feathering the hair adds some length. So when it seemed like cutting each pack in half would turn out with braids shorter than I wanted, feathering the ends before braiding created better usage of the hair's length. Feathering in general was a critical step in braiding because it kept the braids from unravelling. Sometimes I would have to redo them if the ends weren't layered enough.
Turning on a good movie was key. I scrolled through Netflix's Oscar Nominee category and watched this movie called Lion. It was such a good movie. I had my oil diffuser on and had a fun night finishing my hair.
I was very mindful with neatness and keeping the braids straight all the way down. I can tell when a strand's loop starts to twist and turn so I would just start over from where it got messy instead of rushing to get done.
Also grip wasn't something I had trouble with this time. I think after having more experience doing my hair, it was easier to loop the braiding hair to my natural hair this time.
All together I would say it took about 9 1/2 hours between two nights. I really love the outcome. I hadn't attempted to braid my hair in 4 years and this whole time I thought it was just something not apart of my skillset lol. But I got better and would've never known had I not tried again. The moral of the story is, if at first you don't succeed you dust yourself off and try again.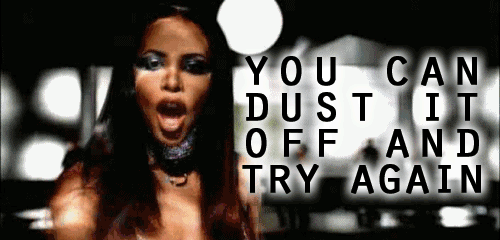 Remember,